Rural & Local Food Economy
The Rural & Local Food Economy sector is very broad and can include positions that closely border, or feature within, other areas such as agriculture, hospitality, and even science and pharmaceuticals for more technical roles.
The agriculture and hospitality industries are vital parts of the Rural & Local Food Economy and those who take up jobs in these areas can expect anything from practical, hands-on and physically demanding jobs to consultancy work and management positions.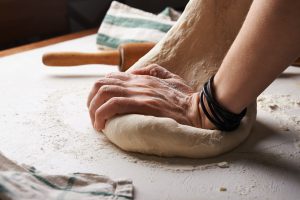 Example Job Profiles
The following profiles are intended for reference only to offer an example of the type of positions available within this sector, along with a brief description and a starting salary. 
---
Entry-Level: Baker
Average Annual Salary: £16,000
Description: A baker often creates baked goods for organisations and establishments. These may vary in size, along with the variety of products.  They may be specialist and artisanal or worked in batches for large events.
Requirements: You could start as a trainee or a bakery assistant, do an apprenticeship, which often requires English and Maths GCSEs, or a college course such as Level 2 Certificate in Bakery.
---
Mid-Level: Food Technologist
Average Annual Salary: £26,600
Description: A food technologist works in food production. Tasks can vary but might include coming up with new types of food and flavours. To do this they will make prototypes of the food, but also test it is fit for human consumption. The technologist will need to think about nutritional value and safety and quality standards.
---
Senior-Level: Head Brewer
Average Annual Salary: £37,000
Description: Head brewers are responsible for the development, production, scheduling and inventory control for alcoholic beverage companies. They oversee and organise the day to day functioning of the distillery or brewery.
Opportunity North Somerset Homepage
Opportunity North Somerset offers a tailored service for anyone looking for support.
If you are interested in any of the featured services, please get in touch directly.