The services provided by the Heath & Social Care sector are vital to society and are in constant need of qualified, skilled individuals.
There are many rewarding opportunities within the sector, with roles that focus on counselling and child protection to residential care and community work.
You could choose to provide care for a specific group of people such as children, the elderly, or those with ill mental or physical health or learning disabilities.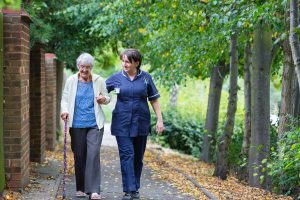 Example Job Profiles
The following profiles are intended for reference only to offer an example of the type of positions available within this sector, along with a brief description and a starting salary. 
---
Entry-Level: Carer
Average Annual Salary: £20,000
Description: Carers provide frontline support to individuals who need extra assistance. Tasks may include washing, dressing and feeding the client, as well as providing emotional support and company. Clients will vary, but may include those who are disabled, elderly, terminally ill or have learning difficulties.
Requirements: Enhanced background check (DBS), Level 1 Certificate in Health and Social Care
---
Mid-Level: Senior Carers, Support Workers, Mentors
Average Annual Salary: £20,000
Description: Senior Carers, Support Workers or Mentors provide help to children or adults (known as service users) with a wide range of care and support needs, which may include a learning disability, physical disability, mental health needs, or other health needs or vulnerabilities. The main function of the role is to enable the service user to live more independently and achieve positive outcomes.
---
Senior-Level: Clinical Psychologist
Average Annual Salary: £40,000
Description: Clinical psychologists work with clients who are experiencing mental and sometimes physical health conditions. They aim to improve their wellbeing by helping them to manage their conditions, following diagnosis and assessment.
Opportunity North Somerset Homepage