Green Jobs range across a large amount of other sectors and lead to many different career opportunities due to the vast majority of jobs needed and increasing amount of jobs.
Green Jobs are work in agricultural, manufacturing, research and development, administrative, and service activities that contribute substantially to preserving or restoring environmental quality.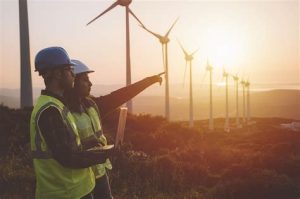 Example Job Profiles
The following profiles are intended for reference only to offer an example of the type of positions available within this sector, along with a brief description and a starting salary. 
---
Construction.
Job Title: Retrofit Energy Assessor
Average Annual Salary: £35,000
Description: Professional who specializes in evaluating the energy efficiency of existing buildings and developing retrofit plans to improve performance. The retrofit assessor plays a critical role in the building retrofitting process, as they are responsible for identifying areas of improvement and recommending cost-effective solutions.
Requirements: Bachelor's (preferred) DEA: 2 years (required) Retrofit assessing: 2 years (preferred) Driving Licence (required)
---
High Tech.
Job Title: Renewable energy engineer
Average Annual Salary: Starter (£20,000) Experienced (£50,000)
Description: Research and design new generating sites, decide on the best locations for sites, plan and oversee production programmes for sites, manage and coordinate teams of technicians or site workers, design and select equipment, meet environmental standards, like carbon reduction targets, find the most cost efficient and productive processes, carry out laboratory experiments, convert experiments into large-scale industrial processes, work with geologists, geophysicists and specialist contractors, manage projects and budgets.
Requirements: Knowledge of engineering science and technology, maths knowledge, analytical thinking skills, to be thorough and pay attention to detail, thinking and reasoning skills, the ability to use your initiative, the ability to come up with new ways of doing things, knowledge of building and construction, to be able to use a computer and the main software packages competently.
---
Rural.
Job Title: Lead Policy Advocate – Ecosystem Service Markets (Hybrid)
Average Annual Salary: £40,000
Description: The purpose of this role is to support the Woodland Trust's work on the operation and development of green finance and ecosystem service markets.
---
Professional Services.
Job Title: Sustainability Coordinator
Average Annual Salary: £35,000
Description: Responsibility for the documented SEMS and maintain certification to ISO 20121, ensure compliance with current legislation and best practice, ensuring that any new legislative changes are brought to the attention of the People & Sustainability Director, Contribute to the setting of KPIs, Support and encourage business case development to consider more sustainable ways of working and opportunities at RIAT, Deliver relevant environmental training programmes to employees and volunteers as appropriate, Provide relevant responses for customer information requests in a timely manner, Attend and act as secretary to the monthly Company Sustainability Working Group, Coordinate project activity to enhance future business performance. For example, eliminate waste, carbon reduction, recycling initiatives, Draft proposals and reports for Company Board meetings and annual report as required, Work with Marketing and PR to develop and deliver an appropriate sustainability communication plan, Maintain personal knowledge and continuing professional development (Sustainable Development) to enable you to act as a focal point for a source of competent advice for departments and employees, Other related responsibilities and projects may be assigned.
Job Title: Consultant – Climate, ESG & Sustainability
Average Annual Salary: £55,000
Description: This Consultant role is an important position within our business; we are looking for a dynamic, self motivated individual, a team-player who is a critical-thinker with organisational abilities to help build our consulting services and capabilities.
---
Find out more about Green Skills: Career Opportunities, Courses and Training.
Engineering and Green Skills | Weston College
Greens Skills for Businesses | Mysite (skillsforfutures.co.uk)
---
Find Your Perfect Green Job.
A specialist job board that focuses on jobs and careers in the green industry sector both in the United Kingdom and globally. Each month Green Jobs promote hundreds of job postings across a variety of sectors including environmental jobs, environment jobs, renewable energy jobs and renewable jobs.
Find out more, visit: GreenJobs, Environmental Jobs and Renewable Energy Jobs in the UK
---
Jaguar Land Rover owner Tata has confirmed plans to build its flagship electric car battery factory in the UK.
The new plant in Somerset is expected to create 4,000 UK jobs and thousands more in the wider supply chain. Tata said it would invest 4bn in the site. But it is understood that the government is also providing subsidies worth hundreds of millions of pounds. The plant is described as the most important investment in the UK automotive since Nissan arrived in the 1980s. The new gigafactory near Bridgewater will be one of the largest in Europe and will initially make batteries for Jaguar Land Rover vehicles like Range Rover, the Defender and the Jaguar brands. But the plan is to also supply other car manufacturers as well, with production at the new factory due to start in 2026.
Find out more, visit: Jaguar Land Rover-owner to spend £4bn on UK battery factory – BBC News
Opportunity North Somerset Homepage