Engineering & High Tech is one of the UK's broadest sectors with many engineering-related industries actively seeking new recruits.
Branches of engineering include: architecture, automotive, chemical, electronics, and robotics. Roles within this sector offer the opportunity for continuing professional development (CPD) and working in an environment that encourages creativity and problem-solving to design innovative products or tackle some of the world's most pressing challenges.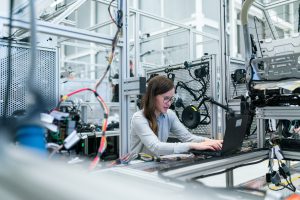 Example Job Profiles
The following profiles are intended for reference only to offer an example of the type of positions available within this sector, along with a brief description and a starting salary. 
---
Entry-Level: Entry-level engineer
Average Annual Salary: £25,000
Description: Engineering at an entry-level often involves working in a supportive role on projects. It varies largely, but you are often delegated tasks that contribute to a wider plan.
Requirements:  It is possible to apply for technician jobs directly; however it is more common to do an apprenticeship, college course or university degree as a route in.  For apprenticeships you need 4 or 5 GCSEs at grades 9-4 (A*-C) to do level 6-7 apprenticeships.  For college you need 1-2 A levels, to do a Level 4 and 5 Higher National Diploma.  For university you need 2-3 A Levels, usually including Physics and Maths to do a degree. Maths and Physics skills often required.
---
Mid-Level: Civil engineer
Average Annual Salary: £35,000
Description: Civil engineers design, plan and/or manage construction projects. The size and area of these projects can largely vary. Examples include working on bridges, wind turbine farms and stadiums.
---
Mid-Level: Mechanical engineer
Average Annual Salary: £35,000
Description: Mechanical engineers participate in the creation, development and manufacturing of new products. Responsibilities may vary from making prototypes, testing equipment and manufacturing objects for example.
---
Mid-Level: Software engineer
Average Annual Salary: £40,000
Description: A software engineer helps to design and develop software. They will often bring together the work of the developers and coders to create a working whole. They will help to work out the smaller disparate tasks and functions, before helping the unify them.
---
Senior-Level: Principal engineer
Average Annual Salary: £50,000
Description: Principle engineers are generally more experienced and skilled engineers. They are often decision-makers, and liase with others working on the project, such as architects, clients and surveyors.
Opportunity North Somerset Homepage