How to Successfully Bring Your Team Back from Furlough and Hospitality Recruitment & Skills
22nd September 2021
10:30 AM - 11:30 AM
https://www.eventbrite.co.uk/e/how-to-successfully-bring-your-team-back-from-furlough-in-the-sw-woe-tickets-168563643395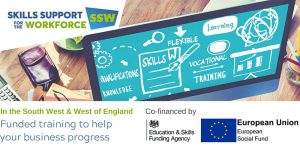 About this event
With furlough due to end on 30th September, join us to find out how to support your furloughed employees' return to work. We will be joined by HR Champions and Education + Skills Training who will share their expert advice and insights.
The free workshop will cover:
• The HR processes to bring staff back to work
• How to get your team ready to welcome back furloughed staff
• How to address skills fade and make sure your staff have the right skills to drive your business forward
• How training can re-engage and motivate your team
To join us at this workshop, please book via this dedicated Eventbrite page: https://www.eventbrite.co.uk/e/how-to-successfully-bring-your-team-back-from-furlough-in-the-sw-woe-tickets-168563643395
A link to join the online workshop and agenda will be sent to you before the event.
This FREE online workshop is open to small and medium sized businesses based in Devon, Somerset, Dorset and the West of England.