How to Successfully Bring Your Team Back from Furlough and Hospitality Recruitment & Skills
7th October 2021
10:30 AM - 12:00 PM
https://www.eventbrite.co.uk/e/recruitment-and-skills-workshop-for-hospitality-businesses-in-the-sw-woe-tickets-168445431821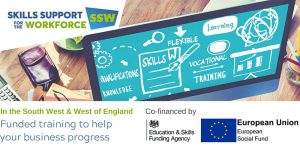 About this event
Join us and recruitment agency, One Step Recruitment, to find out how to successfully recruit new staff for your business and keep your team engaged and motivated. The free workshop will cover:
• How best to recruit new staff
• How to widen your search pool for candidates
• How to support new recruits and get them up to speed to drive your business forward
• How training can support your existing employees and new recruits to make them feel valued and reduce staff turnover
To join us at this workshop, please book via this dedicated Eventbrite page: https://www.eventbrite.co.uk/e/recruitment-and-skills-workshop-for-hospitality-businesses-in-the-sw-woe-tickets-168445431821
A link to join the online workshop and agenda will be sent to you before the event.
This FREE online workshop is open to small and medium sized hospitality businesses based in Devon, Somerset, Dorset and the West of England.