Bristol Chamber Networking Breakfast, Leigh Court
9th January 2020
7:30 AM - 9:30 AM
Leigh Court, Pill Road, Abbots Leigh BS8 3RA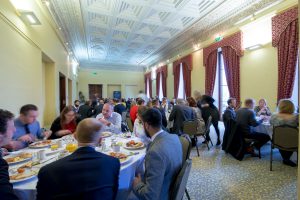 The Business West Chamber Networking Breakfast, Bristol
Join us for a delicious breakfast and excellent networking opportunities in the beautiful setting of Leigh Court.
We've structured our networking breakfast to give you the greatest chance of effective networking, meeting lots of like-minded business people and making smart connections for you and your company. Successful networking can help you raise your profile, meet new customers and suppliers, develop your knowledge, explore new ideas, find investment, establish partnerships and build a presence in other markets.
Event Format
7.30am – arrival, coffee and networking
8.10am – breakfast served and roundtable networking – promote your business for 1 minute each
8.40am – networking – continue networking at a new table – promote your business for 1 minute each
9.00am – networking – swap to a new table to meet more people – promote your business for 1 minute each
9.30am – event closes
To book visit: https://www.businesswest.co.uk/events/chamber-networking-breakfast-bristol-january-2020
What people say
'Meeting new people, networking, efficient structure, and great table swapping'. Pam Madden, West of England Sales Coaching and Counselling
'Enthusiastic members, lively & engaging' Amanda Kerin, AJK Events
'The Business West Chamber breakfast is the one networking event I never miss. As well as being a regular direct and indirect source of business for me I have met some very very interesting people there' Greg Cooper, Marketing and LinkedIn Coach