BBC Digital Cities
25th January 2020 - 2nd February 2020
12:00 AM - 12:00 AM
Bristol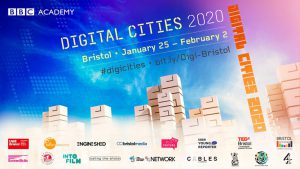 Boost your digital skills with free training and events taking place in Bristol as part of the Digital Cities initiative touring the UK.
Starting on Saturday 25 January, there will be a full and varied schedule across the week, offering insights and free digital skills training.
The schedule is now available at the Digital Cities Bristol homepage.
Amongst the partners delivering events are BBC Academy with our Digital Skills Day, which includes the chance to find out about podcasting, TikTok, Instagram and filming on your smartphone, BBC Young Reporter, BBC Stem and digital arts and creative conference, Hello Culture Remix, will be making its debut in the city.
Boomsatsuma will once again be opening up their doors for an Ask Me Anything event and Bristol Media's How to Get Your Dream Job event will be taking place at the BBC Bristol.
Watershed's Pervasive Media Studio will be hosting a special lunchtime session on the Friday with the BBC's Makerbox and We The Curious are running their awe-inspiring Planetarium Nights.
There will also be a day of events on Thursday 30 January at Watershed. Called Screen Futures, it will feature Bristol UNESCO City of Film, Into Film, ScreenSkills, Cables & Cameras, TEDxBristol, BBC Writersroom, BFI NETWORK, Calling the Shots and BBC Upload and many more fantastic organisations, and will give you the chance to find out what schemes and opportunities they can offer.
Also, recent arrivals to the city – Channel 4 – will be talking about their latest apprenticeships and trainee schemes.
Not to be missed out, tech and digital creators will be able to attend UWE's Global Game Jam and Bristol City Council's Hackathon over the two weekends, both returning after successful events last year.
https://www.bbc.co.uk/academy/en/collections/digital-cities-bristol