Trigger
ONE OF 10 TEAMS COMMISSONED TO DEVELOP THE UK-WIDE FESTIVAL OF CREATIVITY IN 2022!
Trigger, the company behind the world's first flying puppet – a dragon that will fly from the clifftops of Plymouth this summer (see Read More) – have been successful in being selected to develop their ground-breaking project into full production for next year's Festival UK* 2022.  Trigger are one of 30 teams that brought together creatives from across STEAM; scientists, technologists, engineers, artists and mathematicians; from across the UK to work in new creative partnerships.  They were invited to come up with ideas for large-scale public engagement projects designed to reach millions globally that were to take place at locations in England, Northern Ireland, Scotland and Wales.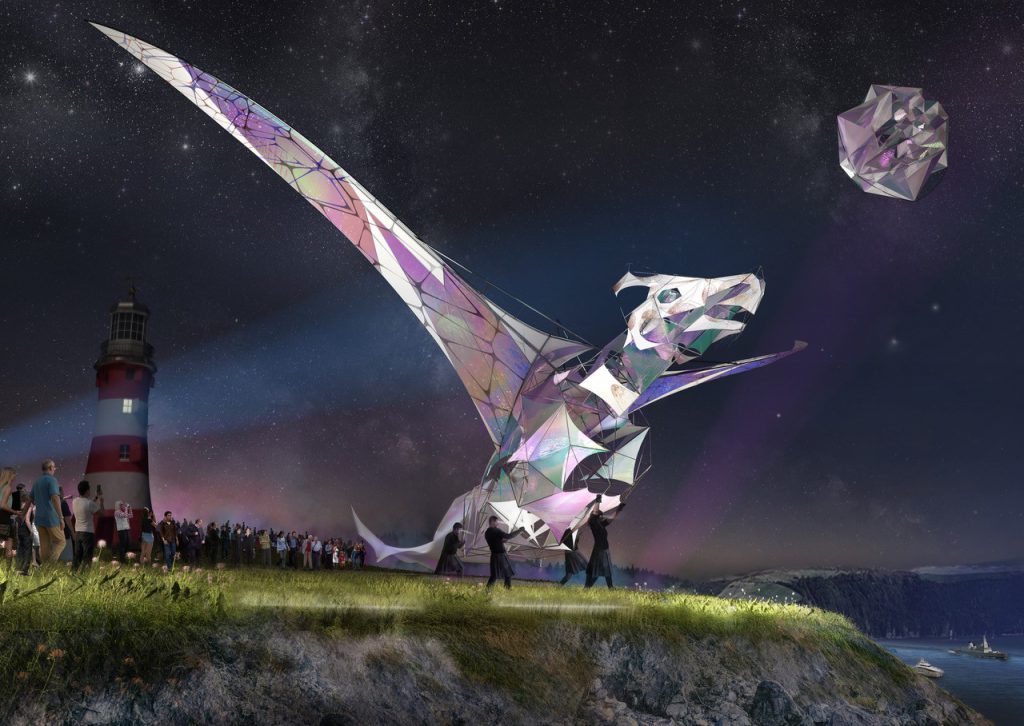 The projects will include events, public engagement activities, participation opportunities and learning programmes reaching millions of children and young people, demonstrating the importance of creativity in people's lives and our collective future.
The Trigger team, Trigger Collective, will be conducting an experiment in mass participation, co-creation, shared histories, sustainability, installation, performance and spectacle through the lens of nature, multiculturalism and ritual and reclaiming space.  The team comprises Angie Bual, Jude Ho, Carl Robertshaw; Brigstow Institute: Prof. Peter Coates, Lydia Medland, Prof. Jane Memmott; Dock Street Events: Chris Clay, Jenny Hutt; THISS: Tamsin Hanke, Sash Scott; Wolves Lane Flower Company: Marianne Mogendorff.
Full details of the festival commissions are being kept under wraps to allow the Creative Teams to turn their ideas into reality, but projects will take us from the land, to the sea, to the air and even outer space, using pioneering technology and the power of imagination. The festival programme will be announced, along with a new name, later this year.
Festival UK* 2022 is backed by £120 million of new money from HM Government and supported by the four governments of England, Northern Ireland, Scotland and Wales.  The British Council joins as the International Partner for Festival UK* 2022, supporting the delivery of the festival's international engagement programme.
Read more about Festival UK* 2022 here:  https://www.festival2022.uk/
The Hatchling World Premiere – 14th & 15th August 2021
The Hatchling is a ground-breaking outdoor theatrical performance that will unfold over a weekend of events and reach an extraordinary finale over the coast of Plymouth.  It will hatch in the city, build herself a nest and then attempt to take to the skies in a bid for her freedom.  Along the way, she'll explore the city, and as she roams, she'll encounter a series of events from intimate interactions to city-wide performances, prepared specially for her majestic visit.
At the end of her journey the Hatchling will undergo an incredible metamorphosis, unfurl her wings, and attempt to soar over the sea at sunset!  With a wingspan of over 20 metres, the Hatchling is the world's largest human-operated puppet to attempt flight.
For more information and to subscribe to the mailing list visit www.thehatchling.co.uk
For more information on Trigger visit www.triggerstuff.co.uk