Grants & Funding
This page provides a number of key sources of information, finance and grants that may be available and relevant to help you start-up, grow and expand your business.
RDPE Growth Programme grants now open to rural businesses
A new funding programme for rural businesses based in England has opened to support rural growth.  The RDPE Growth Programme aims to create jobs and boost tourism.  The programme opened on the 4 November 2019 and provides grants to help rural start-ups and businesses to grow, diversify, and ultimately, benefit their local economy.
Grants are available for:
Food processing – open to food and drink businesses that process agricultural or horticultural products. Find out more in the RDPE Food processing handbook
Business development – open to small business and start-ups, including farmers wishing to diversify into non-agricultural activities. Find out more in the RDPE Business Development handbook
Rural tourism infrastructure – open to a wide range of organisations. If the project is intended to make a profit, only small businesses and farmers who want to diversify can apply.  Find out more in the RDPE Rural Tourism Infrastructure handbook
The minimum grant level is £20,000 with a maximum of £750,000.  However, the maximum grant as a percentage of total eligible project costs is 40% with the balance being provided by the applicant.
What can the funding be used for?
Grant funding can help pay for constructing or improving buildings or buying new equipment. If being used to increase tourism, it can be used to fund the costs of capital infrastructure.
How to apply
Applicants need to send an Expression of Interest form to the Rural Payments Agency (RPA).  Make sure you outline how your project will meet the criteria for the scheme i.e. create jobs, grow your business or improve the local economy.  The deadline for Expressions of Interest is 16th February 2020.  If successful, applicants will be invited to submit a Full Application.  All projects must be finished with grant claims submitted by 30 September 2021.
Funding will only be offered to applications which are deemed to best meet the purposes of the funding and will provide the best value for taxpayer money.
Will this funding be affected by the UK leaving the EU?
The UK government has guaranteed that funding agreed for any project under this programme by the end of 2020 will be funded for their full lifetime. This will be the case in either a deal or no-deal scenario.
View RDPE guidance on submitting an Expression of Interest form 
To find out more about the Rural Development Growth Programme, see the RDPE Growth Programme guidance available on GOV.UK
If you are a rural business in North Somerset the Economic Development team are here to help.  Please contact Josyanne.Clarke@n-somerset.gov.uk ; 01934 426914.
Creative Scale Up
Creative Scale Up is a new programme designed to support creative businesses in the West of England to grow and access finance.  The Department for Digital, Culture, Media & Sport (DCMS) funded programme is a pilot scheme exploring how best to support businesses in the creative industries sector to grow and attract investment.
Support available
Selected businesses will receive 6 months of intensive support as part of a cohort.  The support includes mentoring, face to face peer support, training and workshops.  There is also the opportunity to pitch for small grants and to engage with investors.
Your commitment
There is no financial cost for businesses taking part but there is an expectation that businesses will commit their time to take part in the activities.  It is a competitive programme and businesses will be selected that demonstrate a genuine ambition to grow, innovate and contribute to the region's economy.
Eligibility
Businesses applying to join the programme need to:
Have a minimum of 8 employees, up to 4 of whom can be regular freelance staff
Have scaled by 10% in the last year (turnover or employees)
Have ambition to grow by at least 20% over the next 3 years
Be a Creative Industries business
Have not received More than Euro 200,000 in government funded business support in the last 2 years
Be based in the West of England (Bath and North East Somerset, Bristol, North Somerset and South Gloucestershire)
Agree to participate in the activities and workshops of the programme
Further information is available at https://www.westofengland-ca.gov.uk/business/creative-scale-up/   or contact CreativeScaleUp@westofengland-ca.gov.uk
Creative Workforce for the Future
Bristol and Bath Creative R&D is looking to work with 40 media companies in the West of England who would like to develop their workforce and host a creative placement.  Creative Workforce for the Future aims to create inclusive work environments for the best young creative talent in the cultural and creative industries.  This will give the chance for small businesses to host a placement, network with other businesses, learn about best practice and access training and development opportunities.
The scheme will help businesses:
connect to the best creative talent in the region
provide access to professional advice about inclusive recruitment and
provide an opportunity to host a paid placement.
Deadline for Expressions of Interest is 23rd January https://bristolbathcreative.org/take-part/creative-workforce/sme
Creative Enterprise: Mentoring & Consultancy Support
What is it?
A simple programme of one on one support to help you move your business forward.  Creative Enterprise will pay up to £2,500 to subsidise the cost of working with an expert to provide advice or support to your company.  The following areas can be covered: business strategy, new business models, new products, applications and services, identification of new markets, marketing strategy, monetisation of IP, finance & investment, leadership & management, legal affairs, and international operation.
Who is it for?
The programme will support registered sole traders and SMEs working in moving image for storytelling.
Beneficiaries must:
Be based in the English regions outside of London
Have relevant track record in the screen industry
Have ambitions for company growth and a clear vision for your business
Have a business proposal that includes storytelling through creative content/moving image as a significant component
How do I apply?
Fill in the online application form which includes a business diagnostic and workplan https://www.creativeengland.co.uk/creative-enterprise-2/
The programme is unable to support the following areas:
Not for profit or charity organisations, social enterprises/CICs, E-learning and training, corporate video, agency & advertising.
The guidelines are available here https://www.creativeengland.co.uk/wp-content/uploads/2019/05/creative-enterprise.pdf
Creative Growth Finance Debt Fund
Loans of between £100,000 – £500,000 are offered to the most promising creative businesses.  The fund will target post revenue, IP rich SMEs that have reached a point of scale that requires supporting finance.
Further information is available here: https://www.creativeengland.co.uk/creativegrowthfinance/
CareerTech Challenge Prize
The CareerTech Challenge Prize has been established to fund digital solutions that use labour market information to support people to make better informed decisions about their future careers.
The solutions should generate actionable insights, be easy to use and proactively reach out to users. They should benefit employed adults in England who are aged over 24 years, educated to below degree level and earning less than £35,000 per year, with a focus on those in roles like to significantly change or shrink.
The Prize is open to 'standalone' solutions or 'plug-in' solutions that could be added to other platforms or solutions to enhance them.
If selected as a finalist, entrants will develop and test their solutions during the Prize's nine month finalist stage. When the Prize ends in March 2021, Nesta expects solutions to have reached (at a minimum) an advanced prototype stage; undergone user testing; and to be nearing market readiness.
The deadline for applications is 2pm on 29 January 2020.
Enquiries
Nesta
58 Victoria Embankment
London
EC4Y 0DS
Tel: 020 7438 2500
E-Mail: careertech@nesta.org.uk
Weston-super-Mare shopfront enhancement scheme
In the autumn 2019 the Heritage Action Zone launched a shopfront enhancement grants scheme to offer design services and funding to priority independent commercial properties in Weston Town Centre. The scheme aims to support at least 21 properties to upgrade their shopfronts and  facades over a three year period.
For details contact: Weston.RegenerationTeam@n-somerset.gov.uk
Crowdfunding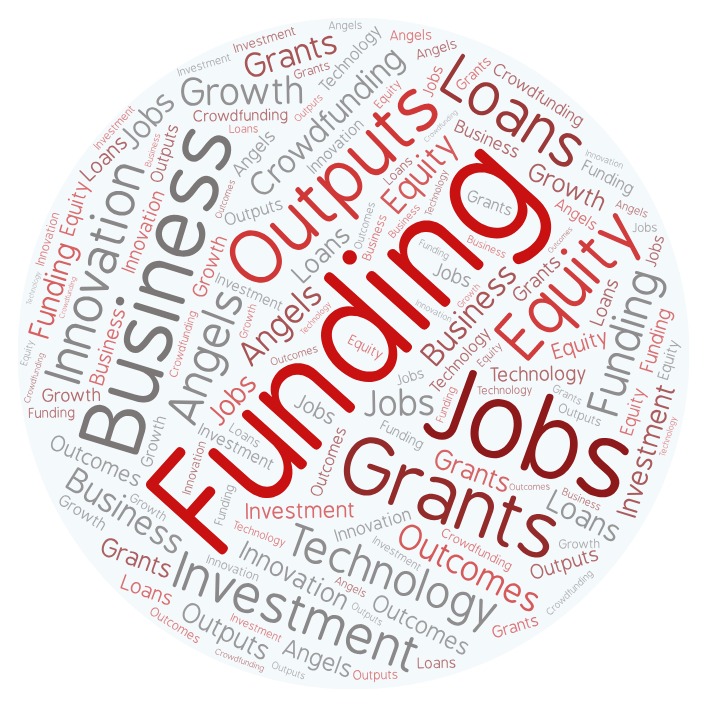 Crowdfunding is a relatively new way of funding a project or venture by raising small amounts of money from a large number of people, typically via the Internet. The following are examples of some of the most relevant crowdfunding platforms to business.