Meet the Creatives: Trigger
North Somerset is home to many wonderful and unique businesses and organisations. This month, we're delighted to introduce Trigger
What is Trigger and how has it developed?
We're a creative arts charity based in a small shop in Blagdon. We make work responding to global issues that impact us all. Whenever there's a time of need or a problem, we start thinking – what can we do? We've grown incredible super gardens, flown dragons and taken innovative technology into healthcare settings. We work in various different ways, and we aren't connected to one particular form.
Part of what we do is about creating spectacular national moments. Our most recent major project PoliNations was developed in the wake of national lockdowns and the Black Lives Matter protests of 2020. It was an epic celebration of beauty, diversity and multiculturalism, and took place in Birmingham during the 2022 Commonwealth games.
In 2021 we premiered The Hatchling – a large-scale flying artwork and the world's first human-powered dragon puppet. We wanted to think of a way to stimulate conversations around 'otherness' by creating something strange and unexpected, and having it take over a city. Her first outing was in Plymouth, and she was seen again in 2022 leading celebrations along The Mall for the Queen's Platinum Jubilee celebrations. We're excited to be taking her up to Wakefield next year.
Our work is also about building local connections. Earlier this year we relocated our business from Bristol to a permanent home in the Old Post Office, Blagdon. Our Co-Directors Angie Bual and Natalie Adams both live nearby and their interest as locals informs the work we do as a charity. In May last year we started supporting a group of asylum seekers placed in local hotels as part of the Home Office dispersal scheme. Now, alongside a network of active locals Trigger regularly provides wellbeing support to 250+ asylum seekers. Through our project Humanity Hotel we've set up a programme of creative workshops, engaging over 430 people through art, craft, cooking, sewing and more in the last 6 months. We've coordinated free transport and collections of essential items, and have collaborated with local businesses to coordinate voluntary opportunities.
Finally, our work is about reaching new audiences on the road. This summer we've been touring TEABREAK, our brand-new show which tells the story of tea and how it reached our shores. It's a free, outdoor show which helps people think about the history of this everyday drink in a very accessible and uplifting way. Before its premiere at Norfolk and Norwich Festival we previewed TEABREAK with a local audience in Chew Stoke.
Who makes up the Trigger team?
There are nine of us in the core team, a mix of experienced and early-career arts professionals, and there's a wide network of freelance creatives, artists and designers that we work with regularly. We're excited about attracting local talent and nurturing the creative energy that North Somerset has to offer.
Why did you decide to base yourself in North Somerset?
We chose to base ourselves in North Somerset because it's a thriving community. As locals, it made sense to move our operations here; we like connecting with others and we love being in the beautiful countryside. North Somerset is a fantastic place to try and test our work, and there are excellent links to universities in Bath, Bristol and further south into Devon. This is helpful as a lot of our work is developed in collaboration with academics.
What are your plans for the future?
Our plans for the future are to keep touring and making performance that makes people say WOW. We're also always looking to find more ways to connect with others: meeting local community groups, collaborating with other creatives in the area and nurturing local young talent through traineeships and internships.
To find out more about Trigger and their exciting projects, please visit www.triggerstuff.co.uk or follow their socials Facebook, Twitter Instagram TikTok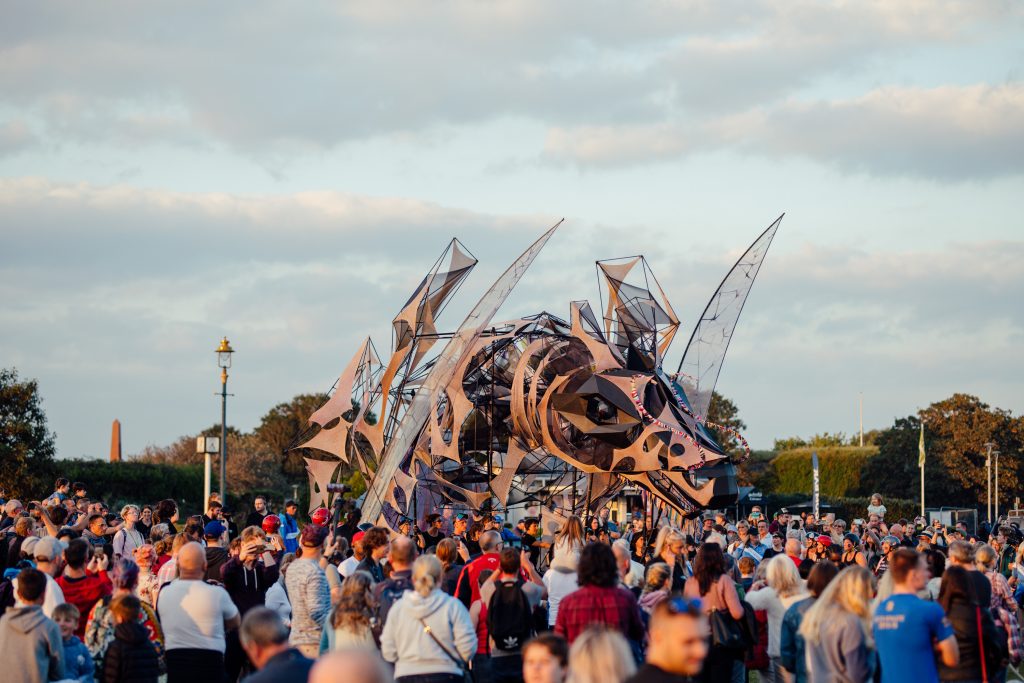 Photo credit: Dom Moore
Featured image photo credit: Katja Ogrin