Financial Incentives are available to help your business tap into the talented workforce.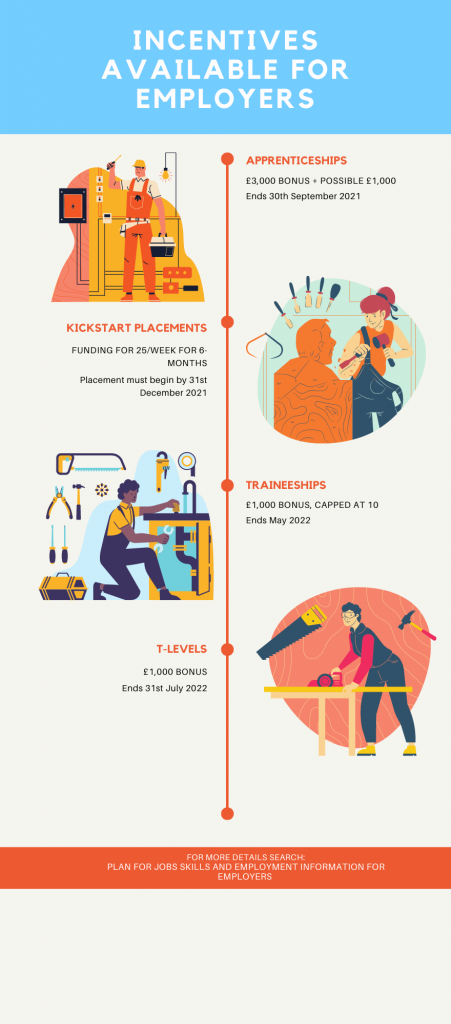 There are numerous financial incentives currently available to employers looking to access the talent pool. As part of the Plan for Jobs, the government have created multiple employment initiatives to help your business with recruitment and retention. The following outlines these pathways that can be harnessed to suit your business needs.
| | | | | |
| --- | --- | --- | --- | --- |
| Placement | Description | Particularly good for | Incentive available | End date |
| Kickstart Scheme | 6-month fully fundeded work placements for 16–24-year-olds claiming Universal Credit. | Gaining extra resource and identifying talent to grow within your business. | Funding for 25 hours a week for 6 months at minimum wage, fully covered by central government. No limit on number of placements. | Placements need to begin by December 31 2021. |
| Apprenticeships | 12+ month paid work placements that allow learners to gain a qualification. | Developing talent within your business and addressing skills gaps. | £3,000 bonus per Apprentice, including an extra £1,000 for Apprentices meeting certain criteria (see below) | 30 September 2021. |
| Traineeships | 6 week – 1 year pre-employment training courses that combine a work placement with classroom learning. | Seeing if a young person is the right fit for your organisation whilst giving your existing staff experience in managing and mentoring. | £1,000 bonus per trainee, capped at 10 per employer. | May 2022. |
| T-Levels | A technical alternative to A-Levels that prepare learners for the workplace by combining their learning with a 45-day work placement. | Building a talent pipeline and future-proofing your business. | £1,000 bonus per T-Level placement hosted. | 31 July 2022. |
Fully funded 6-month Kickstart placements
The Kickstart Scheme is a popular route that allows employers to create fully funded 6-month work placements for 16–24-year-olds claiming Universal Credit. The funding covers 25 hours a week at National Minimum Wage with further funding available for training and support so that the young person can get a job in the future.
You can also use a Kickstart gateway who will apply for the funding on your behalf and act as an intermediary. They may also provide employability training for the young person helping them to develop their skills and knowledge.
To find out more visit: https://www.gov.uk/government/collections/kickstart-scheme
Up to £3,000 bonus when you employ an Apprentice
Apprenticeships provide excellent routes for growing talent within your organisation. They allow you to train someone for a specialised role and address skills gaps, whilst supporting an apprentice to gain a qualification and get paid for their work. You can currently claim £3,000 for new apprentices of any age who have an employment start date between 1 April 2021 to 30 September 2021. This can be in addition to the £1,000 bonus you can claim for employing an apprentice who is:
Aged 16-18 years old
Under 25 with an education, health, and care plan or who has been in the care of their local authority.
To find out more visit: https://www.gov.uk/guidance/incentive-payments-for-hiring-a-new-apprentice
£1,000 bonus for Traineeships
A Traineeships is a pre-employment skills development course that combines classroom learning with a work placement. They can last from 6 weeks – 1 year, although typically they are less than 6 months. They are particularly useful for getting to know the young person and can be used to create a succession pathway. The bonus scheme for traineeships has been extended to May 2022, and employers can currently claim £1,000 for each trainee they support, up to 10 in total.
To find out more visit: https://www.gov.uk/government/collections/traineeships–2
£1,000 bonus for creating a T-Level placement
T-Levels are new, 2-year qualifications that were designed with employers for 16- to 19-year-olds. A T-Level is equivalent to 3 A Levels and uses a 45-day work placement to help young people develop their knowledge, confidence, and practical skills to thrive in the workplace. You can claim a £1,000 for every T-level student you host until July 2022. It's also an excellent way to future-proof your organisation, making sure the next generation has the correct skills to succeed at work. Furthermore, you can avoid many recruitment costs by working with local schools and colleges.
Other employment projects available to support your business.
There are many more initiatives your business can take advantage of including:
The free National Careers Service, that can help you carry out a skills analysis for your business to find gaps and solutions.
Sector-based work academy programmes (SWAP) that help you to recruit staff with the right training, knowledge and skills from the outset.
Skills bootcamps that support immediate labour market needs by meeting local employer demand.
Free level 3 qualifications for all adults aged 19+.
For more details visit: https://www.gov.uk/guidance/plan-for-jobs-skills-and-employment-programmes-information-for-employers.